About RY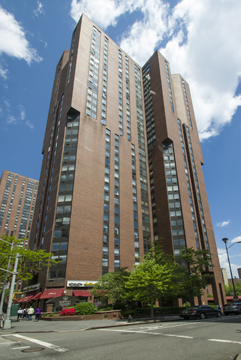 RY Management, Co., Inc. is one of the premiere property management companies in the New York metropolitan region. We have an enviable record of providing professional, innovative and cost-effective services to clients. This is a primary reason why RY Management has continued to develop and thrive in long-term property management relationships.
We are a privately held, full-service property management firm that offers an extensive array of services. From physical plant maintenance, energy saving programs and security issues to compliance construction expertise and staff supervision, RY Management is involved in every aspect of property management. We are known for delivering outstanding results through superior performance that often exceeds expectations.
There is no doubt about it; New York is America's toughest market. As an industry leader, RY Management has continually leveraged its proven expertise across a wide range of multiple-dwellings to provide solutions about purchases, safety issues, personnel and more. The company represents over 9,000 townhouses, rental apartments, cooperatives and condominiums in New York alone – handling many of these for years.
Residents of RY-managed buildings not only enjoy peace of mind, but also a better quality of life. This is because our buildings – from the sidewalks and entranceways to the public areas and facility operational spaces – are conspicuously safe, clean and comfortable.
In a real sense, RY Management excels because of how we attend to building needs and respond personally and promptly to resident, owner, and board requests through our quality staff and professional property managers.
Our ability to deliver performance, rather than just promises has been recognized by the Institute of Real Estate Management (IREM), the industry's leading professional organization:
Accredited Management Organization (AMO)
This designation awarded by IREM recognizes RY Management for its management expertise, professionalism, financial stability and integrity and places it among the very top companies in the United States. In 1999 and 2000 RY Management was awarded the AMO of the Year award
Certified Property Manager (CPM)
RY Management employs more property managers who have attained CPM designation than any competing firm in the New York market. This certification by IREM recognizes individual real estate managers who adhere to the highest professional standards, have completed a set course of educational requirements and rigorous reviews on their experience and ethical conduct.
Exceeding Expectations through Superior Service
Superior performance in a wide range of areas is what truly distinguishes us from other companies. Beyond the basics of security, maintenance, communication and training, RY Management looks at a building or complex from a comprehensive approach to develop a total property management program. This ensures that a property benefits from the greatest possible cost efficiencies and runs smoothly.
When RY Management is on the job, you can relax – literally. RY Management enhances the environs of a property, while optimizing building operations. At the same time, we target systems for preventative maintenance and anticipate needs to minimize problems. Just as importantly, we provide unparalleled safety for people and property. Not only do we provide the results you demand and deserve, but also we ultimately add to the value of the real estate investment.
Fully computerized services
Computerized service integration means that RY Management tracks systems, transforms the speed and efficiency of a project, translates reminders into action or orders, and keeps timetables for accurate activity planning, implementation and budgeting.
Tightly supervised maintenance.
Targeting potential maintenance problems before they become costly operational setbacks.
Disciplined collection policies.
Outstanding, unmatched security programs.
Strict adherence to governmental compliance and requirements.
Annual budget preparation.
Highest professional accounting standards.
Systematized payroll management.
Centrally controlled disbursements.
Building-by-building performance results
Attention to resident repair requests.
Best Practices
RY Management takes an active role in establishing a total property management program. We can implement value-added programs tailored to achieve certain results and objectives established by residents or boards. We also provide:
Timely and comprehensive reports
Energy cost-saving analysis and plans
Effective purchasing plans
Financial analysis and fiscal prudence
Construction expertise